**UPDATED***
Pinch me now because I'm about to write a whole lot of awesome in one post.
In case you haven't heard, there's this conference going on next year and I think you should go. Three amazing women got together and made this thing happen. What women?
Danielle Burkleo
,
Emily Anderson
and
Casey Wiegand
! Can you even believe it?!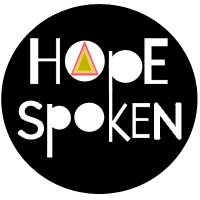 I know. Exciting stuff. Go to the
Hope Spoken
website,
here
, and check out all the information about the conference and see what amazing speakers they have lined up. You'll flip out. Seriously.
And since I care about you guys and want you to be in the know, tickets are going on sale
tonight
at midnight! You can
register here
.
Also, pinch me again because I was asked to design a print based on the verses for the conference, Romans 5:1-5. Here it is:
But wait, there's more! The first 20 to register get a little package of goodies, including my print.
First 20 tickets are gone! But you can still get your own copy of
my print here
.
Here's what you get:
I'm so excited about this conference and really hope you'll come! It's a year away, so start planning!! Okay, set your alarm for midnight and go get your ticket!